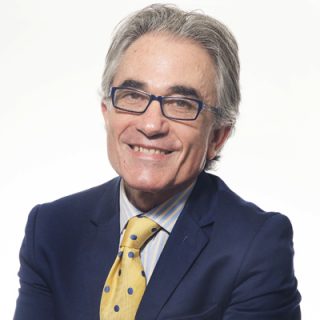 Fernando Albericio
He is Full Professor of Organic Chemistry at the University of Barcelona, Group Leader of the CIBER-BBN (Spain), and since 2016 Research Professor at the University of KwaZulu-Natal (Durban, South Africa).
He received his Ph.D. in Chemistry at the University of Barcelona. Following postdoctoral work at Tufts University (Boston, USA)), at the Université d'Aix-Marseille (France), and at the University of Minnesota (USA), he returned to the University of Barcelona as Associate Professor. During the 1992-1994 period, he was Director of Peptide Research with Millipore/Waters at Boston. He rejoined the University of Barcelona, where he was promoted to professor in 1995. He was founder and General Director of the Barcelona Science Park (PCB) (2005-2012), Group Leader at the Institute for Research in Biomedicine (IRB-Barcelona) (2002-2015), and Inaugural Rector at Yachay Tech, an Ecuadorian University (2014-2015).
His major research interests cover practically all aspects of peptide synthesis and combinatorial chemistry methodologies, as well as synthesis of peptides and small molecules with therapeutic activities, mainly in the field of cancer and infectious diseases.  His group also is being involved in the development of new strategies for drug delivery.  and for diagnostics as well.  Lastly, he was working in the development of multicomponent platforms for the preparation of bioconjugates, involving peptides, foldamer, oligonucleotides, peptide nucleic acids, and monoclonal antibodies, among others.
He has published over 830 scientific papers, several review articles, and co-author of four books.  He has filled more than 55 patents.  He is Editor in Chief of several scientific journal and acting in the Editorial Board of several others.
He has been honored with a Doctorate Honoris Causa by the Universidad de Buenos Aires (Argentina), the Leonidas Zervas award by the European Peptide Society, the Vincent du Vigneaud award by the American Peptide Society, the Excellence Prize of Real Sociedad Española de Química (RSEQ), the Medal of Research Excellence of GEPRONAT-RSEQ, is Honorary Member of the Cuban Chemical Society, and Active Member of the European Academy of Sciences and Arts.
He is Invited Professor at the University of Havana (Cuba), and Visiting Professor at the University of Chile and King Saud University (Riyadh, Saud Arabia)
He is deeply involved in the development of the Third Mission of the University, the transference of knowledge and technology to the society. He was founder of Red Emprendia-Banco Santander and has founded several biotech companies and is acting in the board of directors of several foundations and companies. Furthermore, he is consultant for several companies in the chemical and pharmaceutical areas.