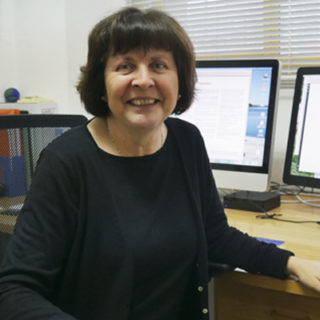 Joaquina Alvarez-Marron
Born in Avilés (Asturias) in 1958. In 1989, she completed her doctoral thesis in structural geology at the University of Oviedo under the supervision of Prof. Andrés Pérez-Estaún. She later obtained a Master degree in Basin Evolution and Dynamics from Royal Holloway, University of London, UK, where she also undertook a postocoral fellowship and later a research fellowship. She then returned to the University of Oviedo where she worked as a postdoctoral fellow and later obtained a professorship before joining the CSIC in 1995. After a brief stay at the Instituto Andaluz de Ciencias de la Tierra in Granada, she moved to the Instituto de Ciencias de la Tierra "Jaume Almera" in Barcelona. She is currently the head of the Department of Structure and Dynamics of the Earth and Crystalography at this institute.
Dr. Alvarez-Marron's general field of research is that of Tectonics, where she integrates geology and geophysics to study various mountain belts worldwide. These include the Andes, the Urals, and Taiwan, among others. Her work has an important field-based component, which she uses to quantify continental deformation, its relationship with rheology of the continental crust and surface processes in the broad context of orogenic belts and sedimentary basins. Her work has taken on field campaigns in mountain belts around the world and has resulted in numerous international conference presentations, more than 90 publications in scientific journals that have been widely cited. During her career to date, she has participated in more than 50 research projects and/or industry contracts both nationally and within the EU. She has been the principal investigator in 9 of these. She has been member of evaluation committees and evaluated research projects from various national, regional and international funding agencies, including National Plan of I+D+i, ACPUA, AVAP, AGAE, and the European Union, Chile and Argentina.
Dr. Alvarez-Marron is a member of the Geological Society of Spain since its foundation, and served as a member of its governing body for 8 years. As well as her research work, she is active in the promotion of women in science and technology. For 10 years she served on the CSIC's Comission of Women and Science representing the area of Natural Resources. For 12 years she also served on the Comission of Women and Science of the Interuniversity Council of Cataluña. Finally, she served on the Executive Committee of the Association of Women Researchers and Technicians (AMIT) since 2004 and has been its President since 2016.