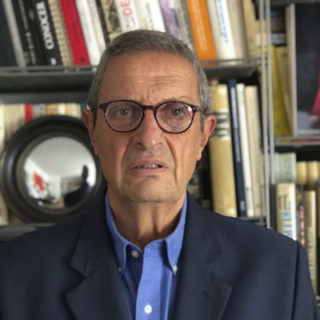 Joaquin Arango
Professor of Sociology, Complutense University of Madrid; Director, Center for the Study of Migration and Citizenship, Instituto Universitario de Investigación Ortega y Gasset, Madrid; Co-Director, GEMI (Group for the study of international migration); Co-Director, Yearbook of Immigration and Immigration Policies (Spain); Member of the Editorial Boards of Journal of Ethnic and Migration Studies (JEMS), Migration Studies, Migración y Desarrollo (México), Mondi Migranti  (Italy), and Revista de Occidente; Professor, Advanced Post-Graduate Degree in International Migration, El Colegio de la Frontera Norte, México; Member of the Advisory Board, Project "Growth, Equal Opportunities, Migration and Markets (GEMM)"; Member, External Advisory Committee, Ph.D. Program in Migration Studies, Universidade de Lisboa; Member, Consejo Asesor del Centro de Investigaciones Sociológicas (Spain); Member, Scientific Committee, Red Internacional de Migración y Desarrollo; Member, Board of Directors, Fundación Alternativas; Member of the Jury, Transfer of Knowledge University-Society, Universidad de Alcalá.
Past Positions:
Chairman, National Forum for the Social Integration of Immigrants; Director, Spanish National Centre for Sociological Research; President of the Board of Directors, European Centre for Research and Documentation in Social Sciences ('Vienna Centre'); Guest Professor in Memory of Willy Brandt, Malmö University; Visiting Professor, University of California, San Diego; Member, Group of Experts 'EuroMed-2030', European Commission; Member, Scientific Advisory Committee, European Index of Migration Policies (MIPEX); Chairman, Experts Group on Imbalances in the Mediterranean, Council of Europe; Member, Special Committee on South-North Migration, International Union for the Scientific Study of Population; Member, European Population Committee; Member and Chair, Expert Group on International Migration Statistics, United Nations and Eurostat; Chair, Department of Sociology II, Faculty of Political Science and Sociology, Complutense University of Madrid; Member, National Committee for the Evaluation of Scientific Research, Spain; Member, Advisory Board, ZEIT Schtiftung Bucerius Scholarships in Migration Studies, Hamburg; Member, Scientific Board of the Research Network "Sociology of Migration", European Sociological Association; Member of the Scientific; Advisory Committee, THEMIS Research Project (NORFACE); Chairman, Award Committee, IMISCOE Maria Ioannis Baganha Dissertation Award; Undersecretary of the Ministry of Education and Science, Spain; Vice-Chancellor, Universidad Internacional Menéndez Pelayo; Co-Director, Postgraduate Programme on Migration Studies and Demographic Analysis, University of Santiago de Compostela; Academic Director, Programme 'Catalonia Today' (promoted by the Autonomous Government of Catalonia); Scientific Advisor, 'Citizenship' Program, Fundación La Caixa (Barcelona); Member, Scientific Advisory Committee, Gaining from Migration Project, OECD; Member, Scientific Advisory Council, Real Instituto Elcano; Member, Consell Assessor Científic del Centre d'Estudis Demogràfics (Barcelona); Co-Chairman, IMISCOE Research Cluster "From an economic crisis to an integration crisis?"
He has collaborated as an expert with international institutions such as the European Commission, Council of Europa, OECD, ILO and other.
He has published extensively in matters of migration, social integration, migration policies, citizenship, demography, population and development and survey research.
Since 2007 he has directed or taken part in the following competitive research projects financed by the European Commission: TEMPER, UPSTREAM, IMPACIM, PRODOC, IDEA, and PROMINSTAT, in addition to projects financed form other national and international institutions.
Education
Licenciatura in Political Science and Economics, Complutense University of Madrid (1969, Premio Extraordinario); Ph.D. Candidate in history, University of California Berkeley (1974, with Honors); Ph.D. in Political Science and Sociology, Complutense University of Madrid (1982, Premio Extraordinario)