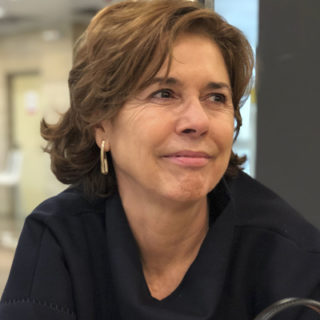 Rosa M. Baños
Professor of Psychopathology at the University of Valencia since 2007 and head of the LabPsiTec-Valencia research group. Doctor in Psychology, specialist psychologist in Clinical Psychology, and director of the Master in "Multidisciplinary Intervention in Eating Disorders, Personality Disorders and Emotional Disorders" at the University of Valencia, and of 3 post-graduate courses. She is currently group leader at CIBER (Networked Biomedical Research Centres) in the area of Biomedicine and Health Sciences (www.ciberobn.es). She has been in charge of the National Research Plan (Psychology section), and had previously been a collaborator (2009-2019). She has led the Excellence Network funded by the National Plan PROMOSAM (Research on Processes, Mechanisms and Psychological Treatments for the Promotion of Mental Health), a network that has brought together researchers and clinicians from our country with the aim of joining forces to contribute, from different perspectives, to the promotion of research and care in the field of mental health.
Her research has focused on the field of mental health, seeking to study in depth the description and understanding of mental disorders, and the development of effective and efficient treatments. In recent years her research activity has focused on the study and application of Information and Communication Technologies (ICTs) in the promotion of mental health, healthy lifestyles, quality of life and well-being, as well as the development and validation of effective, efficient and cost-effective psychological intervention programmes. It has been a world pioneer in the development of virtual reality and augmented reality applications for the treatment of various psychological problems, and in the use of psychological treatments through the Internet and mobile devices. The results of her research have led to more than 200 articles, several books and book chapters. Dr. Baños has participated and led several research projects funded by national and European funds (from the V, VI and VII Framework Programme, and currently from H2020).
She has been a member of the Patronage of the Fundación de la Comunidad Valenciana para el Estudio, Prevención y Asistencia a las Drogodependencias (FEPAD), member of the Working Group of the Comisión Nacional de la Especialidad en Psicología Clínica, for the review of files of Psychólogo Especialista en Psicología Clínica, member of the Joint Working Group for Research and Prevention in Technology and Addictions of the Generalitat Valenciana. She is on the editorial board of 10 scientific journals and is a member of 20 scientific associations. She is currently Vice President of the "Asociación Española de Psicología positiva (SEPP), and Vice President elect European Association of CyberTherapy and Rehabilitation (EACR). She has collaborated as an independent expert for several national (ANEP; ANECA, AQ, AGAUR, etc.) and international (European, North American and Latin American) organizations. She has also received the 2nd Prize of the 5th Framework Programme of the European Economic Community for her work on the VEPSY project, and the Lafourcade Research Prize 2010.