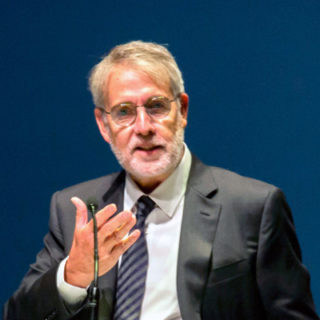 F. Xavier Bosch
He is graduated in Medicine at the University of Barcelona, in 1972; he specialized in Internal Medicine and Clinical Oncology at the Autonomous University of Barcelona in 1978 and 1982; followed a Master of Public Health by the University of California Los Angeles, US in 1978; and holds a PhD from the Autonomous University of Barcelona (1991).
He served as Epidemiologist at the International Agency for Research on Cancer (Lyon, France 1982-1993) and was a Visiting Scientist at the National Cancer Institute (Washington, USA 2002). He served as Director of the Cancer Epidemiology Research Program on the Catalan Institute of Oncology (ICO) (Barcelona, Spain 1994-January 2015) and co-Director of the IARC/Catalan Institute of Oncology Information Centre on HPV and Cancer (www.who.int/hpvcentre). Currently is Director of the e-Oncologia program and Senior Researcher on the Institut d'Investigació Biomèdica de Bellvitge (IDIBELL, September 2017).
Dr Francesc Xavier Bosch conducts epidemiological research focusing on cancers linked to infectious agents. His main research studies focus on cancer of the liver, the cervix, the skin, vagina, anus, penis and cancers of the head and neck. He has also conducted studies on diet and colorectal cancer and headed a program of implementation and methodological research in cancer registration.
Dr Bosch's research projects on viruses and cancer have been instrumental in demonstrating the causal role of Human Papilloma Virus (HPV) in cervical cancer and played a catalytic role for the initiation of the first vaccine trials and for the evaluation of HPV tests as screening tools. Dr Bosch was an early introducer of the now called molecular epidemiology, by designing studies that integrate novel biological assays at DNA level to assess exposure to viral carcinogens. Relevant epidemiological field studies have been carried out in over 35 countries around the world, particularly in Latin America, Africa and Asia. The final and more practical goal of his research has extended into the application of the aetiological knowledge to the prevention of cancer.