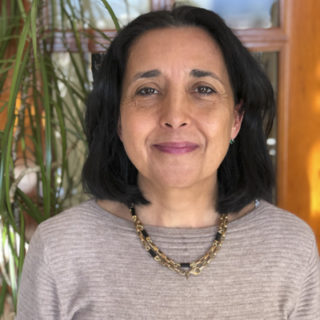 M. Jesus Carro
Graduated in Mathematical Sciences from the University of Extremadura in 1984 and PhD from the University of Barcelona in 1988, where she became a Full Professor in 1993 and is still working today.
Her lines of research fall within the scope of Mathematical Analysis and, in particular, in topics related to functional properties of spaces invariant by rearrangements, interpolation theorems of Banach spaces and extrapolation theory, as well as the boundedness of classical operators, such as the Hardy-Littlewood maximal function, singular integrals of Calderón-Zygmund, Fourier multipliers or the Hardy operator.
She has been the PhD adviser of 5 dissertations and has collaborated with more than 40 researchers from international reference centers in countries such as Argentina, USA, Italy, United Kingdom, Czech Republic, Russia and Sweden, with whom she maintains a close link.
She is the principal investigator of the GARF research group (http://garf.ub.es).
She is, nowadays, Associated Editor of the Journal of Mathematical Analysis and Applications, Commentationes Mathematicae, Extracta Mathematicae, Eurasian Mathematical Journal and Bulletin of the Mexican Mathematical Society.
She has been Coordinator of the ANEP in the area of ​​Mathematics, President of the Science Committee and President of the Mathematics Committee of the ANECA. She is currently a collaborator of the Mathematics team of the AEI and the Mathematics and Engineering team of IKERBASQUE.
She currently chairs the Scientific Commission of the RSME (https://www.rsme.es/) and the Advisory Committee of IMUS (https://www.imus.us.es).
She received the distinction of the Generalitat of Catalonia for the Promotion of University Research in 2003.
http://www.maia.ub.edu/~carro/