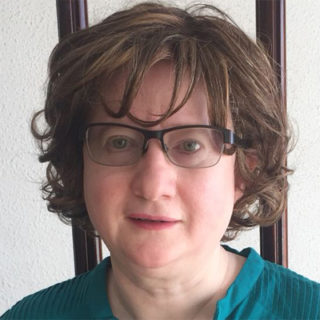 Marta Cascante
She holds a chemistry degree (1982, Exceptional Career Award) and PhD in Biochemistry (1987, Extraordinary doctor's degree prize) by the University of Barcelona. She is currently Full Professor of Biochemistry and Molecular Biology (2003) and Director of the research team "Integrative Systems Biology, Metabolomics and Cancer" at the University of Barcelona, and principal investigator in charge of oa Research group  in the CIBER of Hepatic and Digestive Diseases (CIBEREHD-ISCIII).
She has been granted twice the Icrea Academia award, in recognition of an outstanding scientific research trajectory (2010 and 2015). The Antoni Caparros (2016) award for scientific and knowledge transfer merits, conferred by the Board of Trustees of University of Barcelona and Bosch & Gimpera Foundation, and the  Narcis Monturiol Medal (2015).  She has been founding member of the European Association of Systems Medicine (2016), member of the Board of Directors of the International Metabolomics Society (2008-2011) and member of the Spanish Society of Biochemistry and Molecular Biology (2010-2014). In the last five years she has been member of the "Horizon 2020 Advisory group" for Health, demographic change and wellbeing. Members of this group are appointed as independent experts and provide consolidated advice to the European Commission.
Her Research focusses on studying cancer and multifactorial diseases using a Systems medicine approach to integrate in computational models the knowledge obtained from 'omics technologies and clinical data. Her works have highlighted the potential of computer models to be used to predict the effects of new therapeutic strategies for cancer and other multifactorial diseases, as well as to reflect the metabolic networks involved in those diseases.  In the coming years, her team plans to develop a multi-omics approach to construct genome-scale metabolic networks that accurately reflect metabolic adaptations associated with metastasis and acquired therapeutic resistance and to apply to design new combined therapies to counteract drug resistance in cancer.
She has published over 250 articles with an h-index of 48 (Scopus). Her group participates in various international consortiums, including H2020- Phenomenal (e-infrastructure for medical metabolomics data that aims to support data processing and analysis pipelines for molecular phenotype data generated from metabolomics applications), H2020- MOGLYNET (H2020-MSCA-ITN Modulation of glycolytic flux as a new approach for treatment of atherosclerosis and plaque stabilization: a multidisciplinary study) and H2020-HAEMMETABOLOME (H2020-MSCA-ITN-Deciphering the Metabolism of Haematological Cancers).