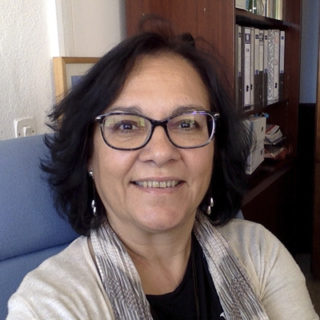 Rosario Fernandez-Fernandez
She studied chemistry at the University of Seville and completed her Doctoral Thesis (1985) under the supervision of Prof. Antonio Gómez Sánchez at the same University. She was a NATO postdoctoral fellow at the University of Paris-Sud (Orsay, France) in the laboratory of Prof. Serge David from 1986-1987. In 1987 she returned to the University of Seville, where she was promoted to Associate Professor. In 2008 she became Full Professor at the same University.
Since 1991 she has developed her career in the field of stereoselective synthesis, acting uninterruptedly as a Researcher Responsible for National and International Projects, as well as Projects of Excellence of the Junta de Andalucía. She is the researcher in charge of the Research Group of Excellence of the Junta de Andalucía "Stereoselective synthesis" since its creation in 1997.
The results of her research have been collected in more than 100 publications, most of them in journals or very high level within the area, and 4 patents (h = 34). On the other hand, 25 Doctoral Theses have been defended under her supervision. She has given 25 invited conferences in national and international congresses, universities, research centers and companies in the last 5 years.
In terms of research management tasks, she has been Coordinator for Organic Chemistry in the National Agency for Evaluation and Prospective (ANEP) in the area of Chemistry for 4 years (2008-2012, Basic Chemistry Programme for MINECO's State Research Plan 2008-2012) and was Coordinator of the Chemistry area for the I+D+I Chemistry Programme of the Dirección de Evaluación y Acreditación de la Agencia Andaluza del Conocimiento (Junta de Andalucía) from 2011 to 2016. Since May 2018, she is a member of the Spanish Research Agency of the Ministry of Economy, Industry and Competitiveness in the area Chemistry.
As for the experience in organizing R & D activities, she has been a member of the Organizing Committee and Chairwoman of the 7th Spanish Portuguese Organic Chemistry Symposium, held in Seville in July 2015, and member of numerous scientific committees of national and international congresses.
On the other hand, she is President of the Territorial Section of Western Andalusia of the Royal Spanish Society of Chemistry since July 2012 and Vice President of the Specialized Group of Organic Chemistry of the Royal Spanish Society of Chemistry since June 2014.
In June 2011 she was elected Member of the Royal Sevillian Academy of Sciences.
Her current research interests include asymmetric synthesis and enantioselective catalysis mediated by metals and/or organocatalytic processes, with particular emphasis on three fundamental lines: Development of new catalytic enantioselective processes of C-C bond forming reactions using hydrazones as reagents or as ligands; Design, synthesis and evaluation of new chiral ligands based on N-heterocyclic carbenes; and Study of new cross-coupling reactions and C-H activation reactions.