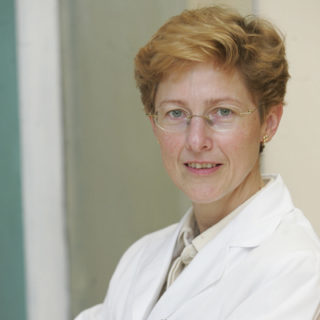 Gema Fruhbeck
She obtained her MD and PhD at the School of Medicine of the University of Navarra receiving the Doctoral Thesis Award. She completed her academc formation with the "Registered Nutritionist" title obtained from the Nutrition Society in London in 1997. In addition, she performed a postdoctoral stay in the group headed by Professor Andrew Prentice at the Medical Research Council – Dunn Clinical Nutrition Centre of Cambridge (UK) being recipient of a Fellowship of the reputed The Royal Society. Moreover, during that period she also carried out teaching committments as Research Associate at the prestigious University of Cambridge.
In December 1998 Gema joined the Multidisciplinary Obesity Team of the Clínica Universitaria de Navarra introducing body composition analysis and indirect calorimetry assessment to the everyday clinical practice. Moreover, she started the development of a basic research group. Currently, she combines everyday work in the clinical setting as Co-Director of the Obesity Area and Senior Consultant of the Department of Endocrinology & Nutrition of the Clínica Universidad de Navarra, with basic research as Head of the Metabolic Research Laboratory of the University of Navarra and Project Leader of the CIBEROBN (Centre of Excellence Network in Obesity and Nutrition of the Spanish Institute of Health). The efforts of her group are focused on studying the impact of adiposity on the development of comorbidities. Frühbeck's group has taken the step forward of using body composition measurements routinely in the clinical assessment of patients in order to analyse the relevance of body fat -beyond the body mass index- in comorbidity development.
Gema Frühbeck is Full Professor of the School of Medicine of the University of Navarra and since October 2018 Vice Dean for Research. Since 2008 Prof. Frühbeck is member of the Executive Committee of CIBEROBN. In addition, she has served as Secretary (2007-09), President-Elect (2009-12), President (2012-15) and Past-President (2015-18) of the European Association for the Study of Obesity (EASO). At present, she combines the roles of  Councillor of the European Society for Clinical Investigation (ESCI) and that of Head of the Scientific Advisory Board of EASO.
In the last years Prof. Frühbeck has been recipient, among others, of the following awards and honours: The Nutrition Society's Silver Medal, UK (2000), "Doctor Laguna Serrano" Prize of the Royal National Academy of Medicine, Spain (2005), "Sir David Cuthbertson Medal" of the Nutrition Society, UK (2005), "AMA Prize" on Nutrition and Health of the Medical Association (2007), Pfizer Prize for a Professional Career in the field of Neuroendocrinology (2009), Commendation of her book "Obesity: Science to Practice" published by Wiley-Blackwell in the British Medical Association Book Awards (2010), Lilly Distinguished Career Award in Endocrinology & Nutrition (2011), "Albert Struyvenberg Medal" of the European Society for Clinical Investiagtion (2013), Award in Medical Leadership of the British Medical Association, London (2017), and Group  Trajectory Award of the Spanish Endocrinology & Nutrition Society (2018).