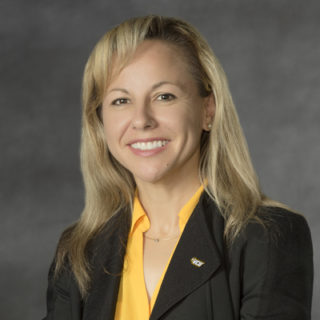 Montserrat Fuentes
Ph.D., became Provost and Executive Vice President of the Universidad of Iowa last June 2019. Until the she was dean of the Virginia Commonwealth University College of Humanities and Sciences on July 1, 2016. She came to VCU from North Carolina State University, where she served as the head of the Department of Statistics and James M. Goodnight Distinguished Professor of Statistics. She received a bachelor's degree in mathematics from the University of Valladolid in Spain and a Ph.D. in statistics from the University of Chicago.
Montse is the Editor of the Journal of the American Statistical Association, the flagship journal in Statistics. She is also a visiting scientist for the Environmental Protection Agency and sits on three committees for the National Academy of Sciences. She was the 2015-16 winner of the D.D. Mason Award Winner at NC State made in recognition of her outstanding contributions as Head of the Department of Statistics from 2011-2016.  Montse has authored over 100 scientific publications & served as principal investigator (or co-PI) on more than 20 research grants, with total funding of more than $25 million. She is the principal investigator and director of the Research Network for Statistical Methods for Atmospheric and Oceanic Sciences (STATMOS), funded by NSF.
Montse was named an ASA fellow (2008) for outstanding contributions to research in spatial statistics. She has also received the Scientific and Technological Achievement Award offered by the United States Environmental Protection Agency in 2012 for the development of an air quality model evaluation framework that fosters scientific credibility for model applications.
Montse is a member-elect of the International Statistical Institute, and has been a member of the Regional Advisory Board (RAB) for the Eastern North American Region (ENAR) of the International Biometric Society. Montse is a member of the Science Advisory Board (SAB) Integrated Human Exposure Committee of the U.S. Environmental Protection Agency, and the U.S. representative in the Board of Directors of the International Environmetrics Society. She was a member of the Biostatistical Methods and Research Design (BMRD) study section of the National Institutes for Health, and she is currently a member of the scientific review committee of Health Canada. She has also worked for the U.S. Department of Justice as an expert witness, and was a member of a committee of the National Research Council of the National Academies working on the impact of ozone on mortality. She was a senior leader of the ADVANCE-NSF Developing Diverse Departments program at NCSU.
Montse was awarded the NCSU 2013 Equity of Women award, for  major contributions to the equity and well-being of women at NC State. Montse was awarded in 2017 the Medal of Distinguished Achievement by the American Statistical Association, Environmental Statistics Section.  For major statistical methodology contributions, leadership and mentoring roles.