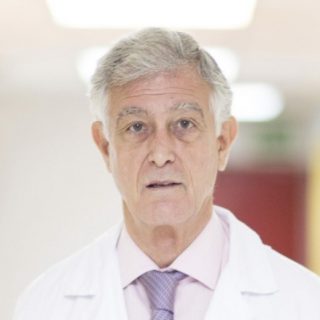 Juan Garcia-Puig
He is currently a Full Professor of Medicine at the Autonoma University Medical School and Clinical Chief at LA PAZ University Hospital, University Hospital, Madrid, Spain, where he directs the Metabolic and Vascular Risk Unit at the Division of Internal Medicine.
After graduating from the Autonoma Medical School in Madrid in 1975, he trained in Clinical Biochemistry and devoted his Ph.D. on renal function in patients with cirrhosis. He completed a post-doctoral training at the Clinical Research Center, University Hospital, Ann Arbor, Michigan, on purine metabolism under the direction of Prof. Irving Fox and Prof. William Kelley.
Prof. Puig is the director of the Metabolic Vascular Unit at La Paz University Hospital, a referral center for purine metabolic disoreders, particularly gout. Since 1984 this unit has diagnosed 50 patients with HPRT deficiency (the largest cohort of this rare disease in the world) and many other purine disorders. This Unit has been quality certified by AENOR since 2007 and renovates this certificate yearly.
Prof. Puig has coordinated over 150 clinical trials in the areas of hypertension, uric acid metabolism, diabetes, heart failure and lipid disorders. He has authored over 450 peer-reviewed publications with a H index of 32. He coordinates a network named "Grupo MAPA-Madrid" devoted to gather GPs interested on the study of vascular risk factors. This group has developed research programs since 1993, and answered questions related to the care of the patients they serve. Prof. Puig coordinates the exam OSCE (Objective Structured Clinical Examination; similar to the step 2 ECFMG CK certificate) at the Autónoma Medical School for third and sixth year medical students. He has been recognized as having 6 periods of 6 years of relevant research and 3 periods of 5 years as a Professor of a Public University in Spain.
Dr. Puig is an active member of several scientific societies. Among several honors he is mentioned in both Who´s Who in the World, and Who´s Who in Medicine and Healthcare. He also serves as a volunteer for several non-governamental organizations.