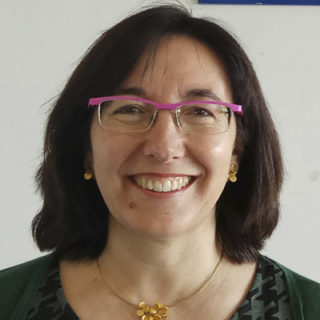 M. Concepcion Gimeno
She is Research Professor of the High Scientific Research Council (CSIC), at the Institute of Chemical Synthesis and Homogeneous Catalysis (ISQCH), a mixed center of the CSIC and the University of Zaragoza, of which she is currently Deputy Director.
She studied the Degree in Chemistry at the University of Zaragoza and carried out the Ph.D. Thesis, under the supervision of Professors Rafael Usón and Antonio Laguna, at the same University. Between 1988 and 1989, she carried out a postdoctoral stay at the University of Bristol with Prof. Gordon Stone, working on the synthesis and reactivity of transition metal carbines. In 1989 she returned to the University of Zaragoza with a Reintegration Grant.
In 1990 she obtained a position as Senior Scientist of the CSIC, in the Institute of Chemical Synthesis and Homogeneous Catalysis, and later, he got the promotion to Scientific Researcher in 2000 and Research Professor in 2008. During the first period she made several stays as visiting professor at the University of Braunschweig (Germany).
Her scientific interests are focused on the design, study and analysis of new group 11 metal compounds with specific catalytic, luminescent and/or biological properties and with potential applications, such as in the synthesis of high added value compounds, as dopants of OLEDs or sensors and as agents for targeted anticancer therapy or as theragnostic agents.
Prof. Gimeno is the author of almost 250 scientific papers among articles, reviews and book chapters and has a patent licensed in exploitation. She has supervised 13 doctoral theses, the research of 8 postdoctoral researchers and that of numerous Master or Erasmus students. Her publications have received more than 5500 citations (h-index 39). She has also given numerous invited talks in Universities and different national and international conferences.
She has held or she held numerous management positions as President of the Aragon Territorial Section of the RSEQ, member of the Chemical Sciences and Technologies Commission of the CSIC, Chair of the Guarantee of the Quality Committee of the Master of Molecular Chemistry and Homogeneous Catalysis of the ISQCH or as Chemistry Coordinator of the State Research Agency.
Prof. Gimeno is Associate Editor of the journals Gold Bull. and Molecules, as well as member of the Advisory Board of Eur. J. Inorg. Chem. She has been awarded with the "IUPAC 2017 Distinguished Women in Chemistry and Chemical Engineering", the "Excellence in Research of the Organometallic Chemistry Group (GEQO)" in 2017, the "Innovation and Future Award of the Heraldo de Aragón" in 2017, the "Medal of the Courts of Aragon" in 2018 and the "Excellence in Research of the Spanish Royal Society of Chemistry (RSEQ)" in 2018.