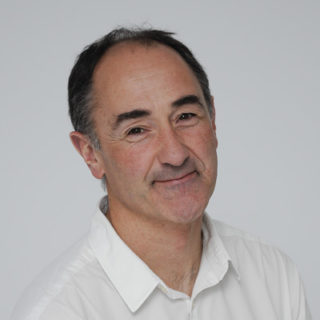 Luis M. Liz-Marzan
Born in Lugo (1965), he obtained a PhD in Chemistry at the University of Santiago de Compostela (1992), for his work on the use of microemulsions as a reaction medium for the production of small magnetic particles. He then moved to the Van't Hoff laboratory at Utrecht University as a postdoctoral associate, where he started a project on the synthesis and optical characterization of noble metallic and bimetallic nanoparticles. The study of plasmonic metal nanoparticles became the central topic of the research carried out by Liz-Marzán when, in 1995, he obtained a faculty position at the Department of Physical Chemistry of the University of Vigo (Full Professor from 2006 to 2012). Liz-Marzán has been Visiting Professor in various universities worldwide and currently holds the position of Scientific Director of the Center for Cooperative Research in Biomaterials, CIC biomaGUNE, in San Sebastian.
The research lines of Luis Liz-Marzán are defined by the application of colloid chemistry to the field of nanoplasmonics. He is considered as a pioneer in the colloidal synthesis of metal nanoparticles, with relevant contributions regarding nanoparticle morphology control and toward tailoring nanoparticle surface chemistry and assembly. The scope of the research currently carried out in Liz-Marzán's group has the ambition to perform morphological and optical characterization at the highest level, to apply theoretical methods to model both nanocrystal growth and optical properties, and ultimately to design applications, related to ultrasensitive detection and early diagnosis of diseases, for which he received an ERC Advanced Grant in 2011.
Liz-Marzán is co-author of over 400 publications and co-inventor of 8 patents. Because of the impact of his work, he has been named by Thomson Reuters as a Highly Cited Researcher, both in Materials Science and Chemistry. He has been editor of two journals (Langmuir and ACS Omega) published by the American Chemical Society, and is a member of the editorial advisory boards of numerous journals (including Science). He is also a member of advisory boards of institutions, such as the Institute of Materials Science of Barcelona (ICMAB-CSIC), the Particle Fluids Processing Center of the University Melbourne, and the Spanish State Research Agency.
He has also delivered over 350 lectures at conferences and research institutions worldwide. Liz-Marzán is a Fellow of the Royal Society of Chemistry (UK) and of the Optical Society of America, as well as Correspondent Member of the Spanish Royal Academy of Sciences. He has received various scientific prizes, including: Humboldt Research Award; XX Dupont Science Award; the Rhodia Prize of the European Colloid and Interface Society; the Medal of the Royal Spanish Society of Chemistry; Rey Jaime I Research Award; Advanced Materials Laureate; and the Blaise Pascal Medal of the European Academy of Sciences. He was also selected for the ACS Nano Lectureship Award in its first edition, has been Langmuir Lecturer and recently obtained two honor Chairs at Belgian universities (Francqui Chair and Smets Chair).