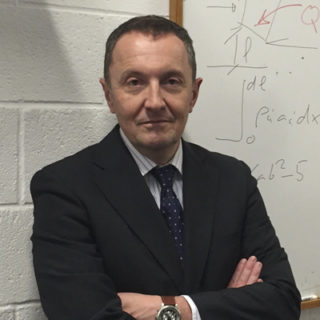 Luis N. Lopez de Lacalle
Prof. Lopez de Lacalle is Mechanical Engineer, and Ph.D in this field since 1993. Now He is Full professor in Mechanical Engineering at the University of the Basque Country, with position in the Faculty of Engineering of Bilbao. Along his whole career the balance of i) excellence in the generation and transferring of new knowledge in manufacturing and design, with more than 130 JCR works and two international books (Machine tools and manufacturing Professes), and ii) many projects funded by industry, is the constant feature. He has participated in several European projects in competitive calls in H2020, FPVII and recently in Clean Sky I and II programs. He is also a leading member of the University research group about Advanced Manufacturing technologies, with the maximum rank given by the Basque Government since 2010.
In training and lecturing, he promoted the special training "Unit about machines Tools and advanced manufacturing", founded in 2008 and still going on. More than 220 students acquired specialization here, who later have been working on innovation in different companies. The unit is a good example of ecosystem research-training-technology transfer.
In addition to research projects, several Ph.D were developed, more than 20, and 7-8 researchers position were maintained along the last 15 years. Thus, 8 patents, 2 international ones, complete the resume.
In 2014 and as result of previous efforts, a new facility was launched and funded in collaboration with the Basque Government and the Council of Province of Biscay, a center regarding Advanced Manufacuring Technologies for Aeronautics (CFAA), with an initial investment of 9 million euros. Prof López de Lacalle was appointed director. The center collaborates with more than 60 companies, which contributed with more than 0.7 million each year, till 2022. The center is aimed at TRL (5-9) technology readiness level, in order to close the gap between applied research and technology transfer to companies, and in this way to impact decisively in the GDP of the country.
Prof. López de Lacalle has been collaborating in different committees for general management of university business, and in several Spanish commission to evaluate research activity (ANEP and CNAI) and quality.