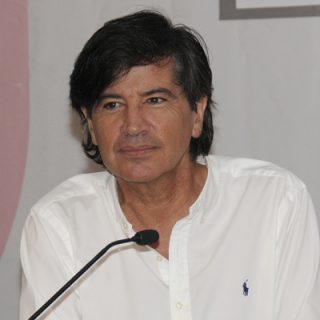 Carlos Lopez-Otin
He is a Professor of Biochemistry and Molecular Biology at the University of Oviedo (Spain), where he combines his teaching responsibilities with his research lines on Cancer and Aging Biology as well as on the Functional analysis of genomes. The work of López-Otín's laboratory has yielded the identification of more than 60 novel human proteases dysregulated in cancer and defined their functional role in cancer and in other pathological processes, including the devastating syndromes of accelerated aging. They have also proposed a global approach for the study of proteases in health and disease through novel concepts such as Degradomics and Degradome, together with the development of high-throughput methods that tackle these concepts. In parallel studies, the López-Otín group has been involved in the functional annotation of the human genome and other genomes and degradomes of biomedical and evolutionary relevance, from chimpanzees and other primates to mice and whales.
Since 2009, Carlos Lopez-Otin co-directs the Spanish contribution to the International Cancer Genome Consortium (ICGC-CLL), which has unveiled the complete tumor genome sequence of hundreds of patients with chronic lymphocytic leukemia. Closely related to the Cancer Genome projects, Lopez-Otin's group has identified the genetic determinants of several hereditary diseases. Foremost amongst these studies is the discovery of two novel premature aging syndromes, the Nestor-Guillermo Progeria Syndrome and the Atypical Neonatal Progeria Syndrome. Their work has also led to the finding of genes causing hereditary sudden death, microcytic anemia, bone abnormalities and familial melanoma.
The work of Lopez-Otin's group has also contributed to clarify the molecular mechanisms associated with physiological aging and their links with cancer. They have also reported the first integrative analysis of the molecular and cellular hallmarks of aging and proposed different strategies for the metabolic control of longevity. Moreover, they have recently developed a method to facilitate the cell reprogramming of aged human cells. Finally, the López-Otín's group has identified a new loss-of-proteostasis mechanism of myeloid transformation, connecting age-associated alterations in hematopoietic stem cells with the pathogenesis of hematological malignancies. Carlos Lopez-Otin is a member of numerous scientific societies, committees and journal editorial boards. He is also a member of the Spanish Royal Academy of Sciences and the European Academy, among others. Throughout his scientific career, he has received different national and international awards and distinctions, such as several Doctorates "Honoris Causa" and the "Santiago Ramón y Cajal" National Research Award.