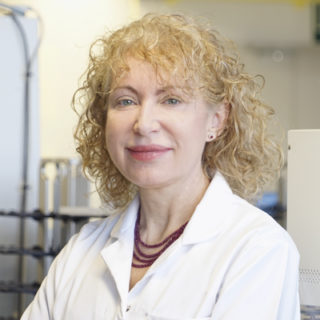 M. Isabel Loza
Professor of Pharmacology and head of BioFarma pharmacology research group at the University of Santiago de Compostela. Leader in the field of Early Drug Discovery at Spanish and European levels, endorsed by the participation in more than 89 research programs as principal investigator, founded by public and private institutions.
Active participation in the development of 14 NCE that have reached clinical trials in the specific programmes of R&D transfer in drug development of different pharmaceutical companies.
Publications: more than 10 books and book chapters, 160 articles in indexed journals in the Journal Citation Report. She has supervised 22 PhD theses qualified with the highest mark, and more than 50 postgraduate research works. She is also reviewer of several journals on the areas of pharmacology, medicinal chemistry and drug discovery.
She regularly participates in national and international congresses in Pharmacology, Medicinal Chemistry and Drug Discovery, which more than 200 contributions.
Active participation in the development of networks and new models of open innovation in early drug discovery: coordinator of the Drug Discovery Galician Network (2007-onwards) and the Drug Discovery Spanish Network of Excellence (REDEFAR). Node coordinator and Spanish Scientific representative of EU-Openscreen ESFRI/ERIC.
Coordinator from the public side of the Joint Research Unit USC/Esteve: intensive collaboration with industry with 5 years of experience in the development of innovation in early drug discovery. Co-coordinator of INNOPHARMA project (EU-Technological funded) Board of trustees of Kæertor Foundation, non for profit foundation for promoting reciprocal transference in open innovation in drug discovery.
Member of the Coordination Committee of the Spanish Technological Platform for Innovative Medicines.
Representative of the University of Santiago de Compostela on the Board of the Ramón Domínguez Foundation for the Research, Development and Innovation. She is also full academician of the Galician Academy of Pharmacy.
As entrepreneur, she has promoted the foundation of three companies (Pharmatools Digital Interactive SL, Allelyus and Oncostellae).
Selected as one of the "30 scientists from 30 countries in Europe" of the Portraits of Science-Scientists of Tomorrow Initiative, in the 30th anniversary of the European Federation of Pharmaceutical Industries and Associations (EFPIA). Recognized with the Innovative Researcher 2018 award by the FEI Recognitions.