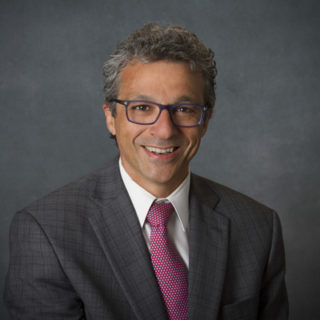 Alvaro Pascual-Leone
He is a Professor of Neurology at Harvard Medical School, a practicing clinician, a committed teacher and mentor, and an active neuroscientist. He is broadly considered an international leader in the technological development and the clinical and research application of noninvasive brain stimulation. His work is broadly published and cited, and Dr. Pascual-Leone's medical, mentoring and scientific contributions have all been recognized with a number of national and international awards. Overall Dr Pascual-Leone's work aims at understanding the mechanisms that control brain networks and brain plasticity across the lifespan to be able to modify them for an individual's optimal behavioral outcome, preventing disability and restoring function in patients with neuropsychiatric diseases. His work combines various brain imaging and brain stimulation methodologies to establish a causal relationship and a precise chronometry between regional brain activation and behavior, and uses noninvasive brain stimulation techniques to probe and modulate brain activity. Such non-invasive approaches can lead to clinically relevant therapeutic effects in neuropsychiatry and neurorehabilitation, and serve as proof-of-principle assessments prior to more invasive neuromodulatory interventions.
Dr. Pascual-Leone's current funded research activity include various NIH and industry-supported studies, including a project to prevent age-related cognitive decline; a multi-centered study to improve cognitive, mood and motor function in PD; a multi-center study to improve cognitive function in mild AD; a study to assess cortical plasticity in ASD; a study to evaluate cortical function in type 2 DM and its correlate with risk of cognitive decline; a project to improve motor control and cognition in spinocerebellar ataxia; a project to combine robot-assisted rehabilitation with brain stimulation to promote recovery of motor function after stroke, and one to reduce spasticity in spinal cord injury; and several studies exploring the utility of brain stimulation to evaluate and modulate cortical brain networks in health and disease.
Dr. Pascual-Leone is the Director of the Berenson-Allen Center for Noninvasive Brain Stimulation (http://tmslab.org) which he founded with three distinct missions:
(1) Research aimed to explore brain-behavior relations, brain network dynamics and its modulation, employing different noninvasive brain stimulation techniques combined with careful task design, electroencephalography, and functional brain imaging.
(2) Educational efforts to train people in the proper clinical, scientific, and ethical use of noninvasive brain stimulation techniques, and to bridge the gaps between neurological and psychiatric disorders
(3) Clinical work to leverage noninvasive brain stimulation for diagnosis, greater pathophysiologic understanding, and treatment of neuropsychiatric disorders.
Educational efforts include several intensive courses in noninvasive brain stimulation offered three times that over the past 10 years have trained nearly 1,000 people from all around the world, and the Sidney-Baer Fellowship in Clinical Neurosciences supporting three post-doctoral fellows yearly to bridge the gap between psychiatry and neurology. Clinical work includes studies of central motor conduction time, cortical reactivity and plasticity, cortical excitation/inhibition balance, noninvasive determination of hemispheric dominance for language, and noninvasive cortical mapping. In addition, the clinical program offers noninvasive brain stimulation for treatment of patients with neuropsychiatric disorders such as depression and schizophrenia, epilepsy, dystonia, Parkinson's disease, chronic pain, and the neurorehabilitation of hand function and language after stroke.
Finally, as Associate Dean for Clinical and Translational Research and Program Director of the Harvard-Catalyst Clinical Research Center (HC-CRC), Dr. Pascual-Leone shapes the programmatic goals and oversees the operation of a cross-institutional resource for translational, clinical research (Harvard Medical School and all its Affiliated Medical Centers, including Beth Israel Deaconess Medical Center; Brigham and Women's Hospital; Children's Hospital Boston; Massachusetts General Hospital; and Massachusetts Institute of Technology). The HC-CRC is one of the programs of the Harvard Catalyst – Harvard University Clinical and Translational Science Center (http://catalyst.harvard.edu/). Funding derives from a grant awarded by the National Institutes of Health. Under the leadership of Dr. Pascual-Leone, the HC-CRC provides state-of-the-art clinical research facilities and expertise to faculty who conduct human studies (http://catalyst.harvard.edu/programs/hccrc/), including dedicated research space (in-patient and out-patient facilities); specialized research equipment; experienced patient care and research staff; controlled environment test areas for specialized studies such as sleep and neurologic testing; metabolism &nutrition research personnel and facilities; and laboratory services.
Alvaro Pascual-Leone, MD, PhD, is Professor of Neurology and an Associate Dean for Clinical and Translational Research at Harvard Medical School. He serves as the Chief for the Division of Cognitive Neurology and the Director of the Berenson-Allen Center for Noninvasive Brain Stimulation at Beth Israel Deaconess Medical Center.
Dr. Pascual-Leone works as a practicing cognitive neurologist. His researchcombines various brain imaging and brain stimulation methodologies and aims at understanding the mechanisms that control brain plasticity across the life span to be able to modify them for the patient's optimal behavioral outcome, prevent agerelated cognitive decline, reduce the risk for dementia, and minimize the impact of neurodevelopmental disorders.
He is considered a world leader in the field of noninvasive brain stimulation and Thompson Reuters has recognized as one of World's Most Influential Scientific Minds, and one of the World's top 15 Neuroscience Researchers. Dr. Pascual-Leone has authored more than 650 scientific papers (H-index 133; i10index 482) and several books, and is listed inventor in 17 patents.
Dr. Pascual-Leone is an elected member of the Royal Academy of Pharmacy in Spain, and the recipient of several international honors and awards. His work has wide general public appeal and outreach through dissemination in articles in the lay press, documentaries on television and radio, and several trade books (e.g. Norman Doidge, The Brain That Changes Itself ; John E. Robison, Switched On).