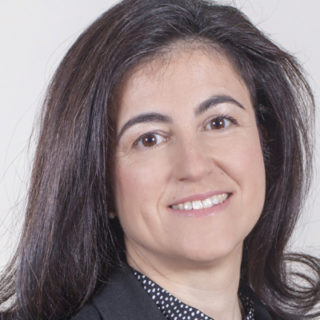 M. Teresa Perez-Prado
Born in Avilés (Asturias, 1972), she is Deputy Director at IMDEA Materials Institute, where she heads the research group on Physical Metallurgy.
Teresa obtained both her BSc (1994) and PhD (1998) in Physics from the Complutense University in Madrid and carried out part of her doctoral research at the Naval Postgraduate School in Monterey, California. She held a 2 year postdoctoral appointment at the University of California in San Diego before accepting a tenure-track Ramón y Cajal fellowship at the National Center for Metals Research (CENIM), in Madrid, where she was granted tenure in 2004. Prior to joining IMDEA Materials in 2008, Dr. Pérez-Prado completed an MBA at Insead, France.
Teresa has published more than 110 papers in peer reviewed international journals and 1 book (Elsevier, 2004). She is editor of the journal Materials Research Letters. Teresa has led 17 R&D projects funded by national and international funding agencies and has supervised 7 PhD thesis.
Her expertise consists on linking the composition, processing, microstructure, and properties of metals to optimize alloy design for advanced manufacturing, sustainable transport, energy and biomedical applications. An experimental physical metallurgist, she has greatly focused on the influence of texture and grain boundaries on the microscopic deformation mechanisms. Dr. Pérez-Prado´s research is supported by solid long term collaborations with experts on simulation at all length scales, on micro and nanomechanics, on magnetism, and on advanced manufacturing.
Teresa is member of the Scientific Council of the Nomaten Center of Excellence (Poland), the IRT Jules Verne (France) and the Spanish Society for Materials.