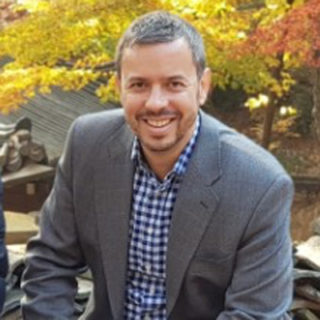 Raul Rabadan
Professor, Department of Systems Biology, Columbia University
Director of Mathematical Genomics, Columbia University
A. Personal Statement
I received my Ph.D. in Theoretical Physics in 2001 and went on to conduct research in that field at the European Laboratory for Particle Physics (CERN) in Switzerland and at the Institute for Advanced Study (IAS) in Princeton. In 2006 I joined the Systems Biology program at IAS, as a Martin A. and Helen Chooljian Member. In 2008 I joined the faculty at Columbia University, where I am currently a tenured Professor with a joint appointment in the Department of Systems Biology and the Department of Biomedical Informatics and the director of the Mathematical Genomics Program at Columbia University and of the Columbia University Center for Topology of Cancer Evolution and Heterogeneity, an NCI Physics and Oncolog y Center. At Columbia, I lead a highly interdisciplinary lab with researchers from the fields of mathematics, physics, computer science, engineering, and medicine, with the common goal of solving pressing biomedical problems through quantitative computational models. My work is mainly focused on developing tools to analyze genomic data, extracting the relevant information to understand the molecular biology, population genetics, evolution, developmental processes and epidem iology of cancer. The impact of the tools and associated discoveries have been reported in numerous publications, among many others:
Topological tools for reconstructing developmental processes using single cell transcriptomic data (Nature Biotechnology),
The landscape of genetic alterations in gliomas, heterogeneity (Nature Genetics) and evolution under standard therapy (Nature Genetics) and immunotherapies (Nature Medicine),
The first gene fusion in glioblastoma multiforme (Science),
The driver mutations in leukemias (NEJM) and evolution of pediatric leukemias under therapy (Nature, Nature Genetics).
B. Positions and Honors
Positions
2001-2003: Fellow at the Theoretical Physics Unit at CERN (European Organization for Nuclear Research), in Geneva, Switzerland.
2003-2006: Member of Particle Physics Group at the Institute for Advanced Study, Princeton, NJ.
2006-2008: Member of The Simons Center for Systems Biology led by A. J. Levine at the Institute for Advanced Study in Princeton.
2008-2014: Assistant Professor, Department of Biomedical Informatics, Columbia University, NY.
2014-2017: Associate Professor (tenured), Departments of Systems Biology and Biomedical Informatics, Columbia University.
2015-present: Director of Center for Topology of Cancer Evolution, Columbia University.
2017-present: Professor (tenured), Departments of Systems Biology and Biomedical Informatics.
2017-present: Director of the Mathematical Genomics Program at Columbia University.
2018-present: co-leader of the Program of Cancer Genetics and Epigenetics, The Herbert Irving Comprehensive Cancer Center at Columbia University.
Honors
Martin A. and Helen Chooljian Member at Institute for Advanced Study (2006-2008), Princeton, NJ.
Brilliant 10 scientist in 2010, by Popular Science.
Member of Big Think Delphi Fellows (2011).
Fellow in the PopTech Science and Public Leadership Program, 2011.
Steward Trust Foundation, Cancer Research Fellow (2012-2014).
Harold and Golden Lamport Award. 2014.
Diz-Pintado Award, VIII National Award by Centro de Investigacion del Cancer, Spain, 2018.
Phillip Sharp Award, SU2C, 2018.
Other Experience and Professional Memberships
Founding editor in chief in Current Opinions in Systems Biology.
Reviewer of  Nature,  Cell,  Science,  Nature  Genetics,  Nature  Biotechnology,  Nature  Methods,  Nature Medicine, eLife, Proceedings of the Natural Academ y of Sciences, Journal of Virology, PLoS Pathogens, Journal of High Energy Physics, Nuclear Physics B, Physics Letters B, Int. J. Phys. A., among many others.
C. Contribution to Science
1. My main interests are in understanding the dynamics of biological systems by studying large collections of genomes. In that line, I have become very active in reconstructing the main routes of evolution in tumors, the role of clonal heterogeneity and finding alterations that drive tumor evolution and relapse to therap My work has been mostly focused on hematological malignancies and brain tumors, but the techniques developed have been applied across a large variety of tumors.
2. My study in the genetics of glioblastoma has been focused on the identification of novel driver genes at diagnosis using genomic information in cross sectional data and large scale clinical information.
3. Of recent interest is to elucidate the role of non -coding RNAs, in particular in the initiation of tumors. My lab has developed computational tools to reconstruct non -coding RNAs associated to diverse regulatory mechanisms in the cell.
4. Infectious  diseases  constitute  another  type  of  biological  systems  whose  patterns  of  evolution  are amenable to study through large collections of genom es. By comparing thousands of genomes we are able to identify patterns and evolutionary motives. For instance, we were one of the first groups to report the reassortment history of the virus that lead to the 2009 H1N1 flu pandemic. In other projects, we study the genomics of tumor associated microbes.
5. With my training and long interest in mathem atical physics, I have created an active program to bring tools from topology  and  geometry  to disentangle patterns of evolution.  Together  with  algebraic  topologists  (Andrew Blumberg) we have written a text book on geometric and topological approaches to the study of biological processes using genomic data (in Press, Rabadan  and Blumberg, Cambridge University Press).
Complete List of Published Work can be found in Google Scholar: https://scholar.google.com/citations?user=TILW yT0AAAAJ&hl=en&oi =ao
Summary as 02/19: more than 200 peer reviewed publications, 15,558 citations, h-index=56