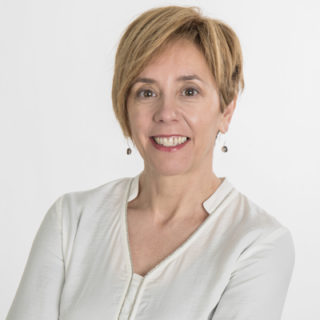 M. Soledad Soengas
Head of the Melanoma Group and the Dean for Academic Affairs at the Spanish National Cancer Research Centre (CNIO) in Madrid.
The long-term goal of the Soengas Laboratory is to translate basic research in melanoma into the clinic by identifying novel tumour markers and drug targets. Her group is particularly interested in mechanisms of cellular stress (involving apoptosis, senescence and lysosomal-mediated degradation) that being selectively deregulated in melanoma, define lineage-specific vulnerabilities (publications in Science, Cell, Cancer Cell, Nature Cell Biology, Nature Communications, among others). Her group has also generated first-in-class lymphoreporter mice for non-invasive imaging of pre-metastatic niches in melanoma (Nature). Her leadership capabilities are illustrated by the coordination and participation in various national and international consortia, exemplified by the Immutrain Marie Curie EU Training Action.
Soengas is particularly interested in translating basic research into the bedside. She cofounded Bioncotech Therapeutics, a spin off of the CNIO, aimed to the clinical development of proprietary dsRNA-based nanocomplexes. A lead compound from Bioncotech is currently in Phase Ib clinical trials. With respect to committee services, Soengas is actively involved in training of predoctoral and postdoctoral fellows, as well as junior investigators. She guided and supported Assistant Professors as part of the Mentorship Programme at the University of Michigan. She continues to foster career development at the CNIO as Dean for Academic Affairs. Soengas has received fellowships and awards from the Human Frontiers in Science Program, the Leukemia and Lymphoma Society of America, the American Dermatology Foundation, the Elsa V. Pardee Foundation, the V Foundation for Cancer Research and the Melanoma Research Alliance. She also received the Dana Ashby Young Investigator Award of the Melanoma Research Foundation, as well as the Outstanding Research Investigator Award by the Society for Melanoma. She is also an advocate for Women in Science initiatives. In this context, she has received the "María Josefa Wonenburger" Award by the Unidad Mujer y Ciencia de la Xunta de Galicia. In 2017 she was the recipient of the "Estela Medrano Award" de la Society for Melanoma Research, which recognizes influential female researchers in the melanoma field. She is the coordinator of the "Team Science Award for Woman in Science" of the Melanoma Research Alliance y L'Orèal-Paris. She 2017 she received the "Premio Constantes y Vitales" by Atresmedia, to the Most Relevant publication in Biomedicine, as well as the "Premio "Executivas de Galicia" for her scientific career. In 2018 she was elected within the "Top100 Mujeres Líderes en España" (Mujeres & Cía), and also received the "Placa de Honor" Award by the Asociación Española de Científicos.