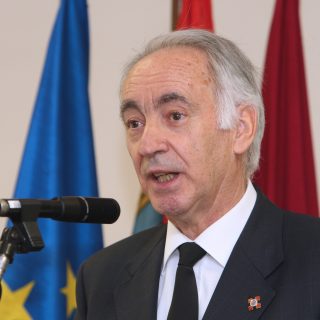 Fernando Tejerina
PhD in physical sciences from the University of Valencia and Bachelor's degree in chemistry from the University of Valladolid, Fernando Tejerina García is one of the most prestigious professors of thermodynamics. Born on March 2, 1942 in Sorriba del Esla (Leon) is Professor of thermodynamics at the University of Valladolid and previously was Professor at the universities of Valencia and Autonomous University of Barcelona.
Throughout his career he has held different positions of University Government notably Rector of the University of Valladolid (1984-1994) and Secretary of State for Universities, Research and Development (1996-1997). In his career also highlights his work on the Board of Trustees of the Foundation Dukes of Soria; in the General Foundation of the Valladolid University; and the Fundación Santa María la Real (Aguilar de Campoo)
Within its research activity has co-authored over one hundred research papers, director of various scientific monographs, participated in conferences and scientific seminars as a speaker or as director of the different seminaries. He is a member of various national and international scientific societies. He has published three master pieces on thermodynamics and has been coordinator of physics texts for high school and C.O.U.
Awards and distinctions: Prize to the Fellow with better qualifications. Extraordinary Degree award. Prize. City Hall of Valladolid price to best undergraduate academic record. Accésit Premio Nacional Fin de Carrera. Bronce Victor professional merit. PhD extraordinary award. Award of PhD by the Foundation Canada – Blanch. Award of the Royal Society of Physics and Chemistry for Novice Researchers. Physics medal of the Real Sociedad Española de Física y Química. Medal of the University of Valladolid. Medal of the International Association of University Presidents. Member of Honour of the Royal Academy of Medicine of Valladolid. Doctor Honoris Causa by the University of Burgos and the universities Autonomous of Guadalajara (Mexico) and Palermo (Argentina). Master's degree Honoris Causa in Management and Business Administration. Upper school European and business (ESCAL).