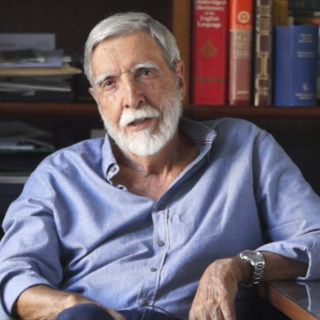 Jaume Terradas
Born Barcelona, 1943. Emer. Prof. Ecology, UAB. He organized the first team to study terrestrial ecosystems in Catalonia. He was the promoter and first director,  of Center of Research in Ecology and Forestry, CREAF (1988-1998). He promoted environmental education in Spain and Environmental Sciences degree at UAB. His research is in forest ecology, plant ecophysiology, molecular ecology, climate change, evolution, etc.
Director: compet. projects Hispano-Norteam. Coop. Aids, CAYCIT, CICYT, etc; 17 PhD; exhibition Ecology of a city, 1986; the17 courses Aula d'Ecologia,. Barcelona munic. (1996-2012).
Researcher > 20 compet. proj. U.E., Spain and local. Sci. Papers. around 250, in Ecology, Nature Commun., Scientific Reports, Climatic Change, Ambio, Molec. Phylogen. & Evol., Molec. Ecol., J. of Hydrology, J. Veget. Sci., Tree Physiol., Amer. J. Botany, Oecologia, Water Air and Soil Pollution, Vegetatio, Plant Biol., The Open Evol. J., Intern. J. Ecol., Trends in Plant Sci., CABReviews, etc.; on environmental education>50; outreach >110; Books >20, i.e.: Notícias sobre Evolución http://blog.creaf.cat/es/noticies/disponible-on-line-el-libro-noticies-sobre-evolucio, 2015, Ecologia viscuda (PUV, 2011), Biografía del Mundo (2006, Destino), Ecología de la Vegetación (2001, Omega), Ecología urbana (2001, Ed. Rubes), Barcelona 1985-1999: Ecologia d'una ciutat (Barracó, Parés, Prat y Terradas, Ayunt. Barcel., 2000), Ecologia del Foc (Terradas, J. ed., Proa, 1996), Quercus ilex ecosystems: function, dynamics and management (Romane, F., J. Terradas, eds., Kluywer 1992), Ecología y educación ambiental (Terradas 1979, Omega), Ecologia hoy (1971, Teide, 8 eds.).
Management: Direct. Ecology and Anim. & Plant Biol, and Ecol. Dpts. UAB, First President Asoc. Esp. Ecología Terrestre.
Comittees: Com. Env. Educat. IUNC; Spain's delegate to Moscow 's Intergovernm Conf. on Environm. Educ.. (1987);  Secret. Estado delegate at  Com. Nac. Reforma Planes de Estudio (1989); m. Social Welfare and Environment and Sustainability Councils of Barcelona and Nature Protection Council, Catalonia; Spanish Com. on Man and Biosphere; Sc.Com. Parc Nation. Cévennes (Fr.); Parc Nat. Delta de l'Ebre Board; Fund. Territori i Paisatge Board; IRTA Sci. Com.; Catalonia's Urbanism Com; Research Eval. Com. AQ Cataluña; Eval. Com. CIFOR (INIA); Soc. Esp. Cienc. Forest. Board; Barcelona' Culture Council; Sci. Co, of Intern. Award Ramon Margalef; Institut d'Estudis Catalans, etc.
Stages: Univs. Toulouse (1967-68) and Stanford (1999).
Referee: Climatic Change, Global Change Biol., Trends in Plant Sci., Ecology, Oecol. Plant.; Studia Oecol.; Vegetatio, J. Wildland Fire, Ecoscience, Clim. Research, J. Veget. Sci, J. Environ. Biology, J. Geophys. Res., Biogeosciences, Biotropica, Plant Ecol. and Divers., Global Ecol. and Biogeogr.,  etc., U.E., Spain and Chile research projects, Eval. Com. of STEP and EPOCH Progr., U.E.
Awards: 1992, Narcís Monturiol Medal, Generalitat; 1998, Environment, Generalitat; 2002, Environment,IEC -Fund. Caixa de Sabadell; 2006, Crítica Serra d'Or; 2010, Atlas UGT-Generalitat; 2014, distinction Fund. F. González Bernáldez  (Complutense, Autón. Madrid, Alcalá).  Honor membership: ICHN., Asoc. Esp. Ecología Terrestre, Colegio Ambientól. Cataluña.