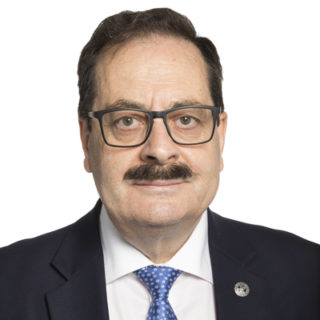 Manuel Vidal
Born in Valladolid (Spain) in 1956
Present Position: Full-Professor of Experimental Ophthalmology (Faculty of Medicine, Universidad de Murcia, Murcia, Spain), teaches physiology of the visual system and heads the Laboratory of Experimental Ophthalmology.
Main domain of research: Neurodegeneration, neuroprotection and repair of the adult mammalian visual system. Dr. Vidal-Sanz's laboratory studies degeneration and neuroprotection of the adult rodent visual system in a variety of injury-induced models established in the Laboratory and uses modern techniques to quantify the effects of these injuries on retinal ganglion cells and photoreceptors.
Academic Education: MD Valladolid Univ (1979). Medical Internship Residency Program in General Surgery (1980-1984) H Clínico S Carlos, Complutense Univ. Madrid.  PhD in Medicine 1984, Complutense Univ. Postdoc Fellow Medical Research Council of Canada (supervisors: Albert J. Aguayo & Michael Rasminsky) Centre for Research in Neuroscience (Montreal Neurological Institute, McGill University; 1984-1991, Montreal, Canada) where he obtained a Ph.D. in Neurosciences in 1991.
Honors: 1984, Ph.D. in Medicine (Universidad Complutense de Madrid). 1991, Ph.D. in Neuroscience (McGill University, Canada). 1989, Research Prize of the Spanish Royal Academy of Medicine. 2007, Gold Medal of the University of Valladolid, Research Prize Emilio Díaz Caneja. 2009, Gold Medal of the Mediterranean Society of Ophthalmology, Prize to a Scientific Career. 2012 Research Prize  (III Edition of the Alcon Prize to Excellence in Glaucoma Research). 2012 First Prize Merck Sharp and Dome-SEG to the Best publication in Glaucoma. First International Prize in Low Vision Research Prof. Julián García-Sánchez, September 25, 2015, Seville (Spain). Silver Fellow (2016) in the ARVO Fellow Class. 2017 Research Prize (7th Edition Alcon Prize to Excellence in Glaucoma Research).
Appointments: 1980-1984 Resident, General Surgery, Hospital Clínico Universitario, Madrid. 1984-1991 Postdoctoral Research Fellow (McGill University, Quebec, Canada). 1991-1996 Research Staff Member, Cajal Institute (CSIC) Madrid.  July 1996- Present, Full Professor of Ophthalmology (Experimental Ophthalmology), Faculty of Medicine, University of Murcia. 1997, Visiting Professor at the Department of Developmental Neuroscience of Uppsala University (Sweden).  Treasurer and member of the Council of the Spanish Society for Neuroscience.  May 1997-2006, Head of the Deparment of Ophthalmology, Otorrinolaringology and Pathology. April 2006-2024, ViceChancellor for Health Sciences and Institutional Relations, Murcia University.
Memberships and Editorial Responsibilities: Since 1991 serves on several editorial boards and on review panels for Spanish and International Granting agencies.
Selected Publications:  Articles in peer reviewed journals: 135. Times cited: 6,900.  h-index: 49