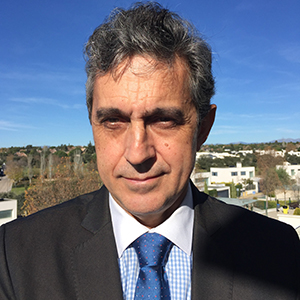 Campos, Pablo
Pablo Campos Calvo-Sotelo
Pablo Campos Calvo-Sotelo es Doctor Arquitecto (Universidad Politécnica de Madrid), Doctor en Educación (Universidad de Salamanca), Académico de Número-Real Academia de Doctores de España y Catedrático de Composición Arquitectónica (Universidad San Pablo-CEU). Dirige la firma: www.utoplan.es, especializándose desde 1989 en el diseño de "Espacios del Saber".
Posee 4 Sexenios de Investigación. Su línea de investigación prioritaria es la Arquitectura de la educación, habiendo sido IP de diversos Proyectos de Investigación. Ha dirigido 9 Tesis Doctorales (finalizadas) y 5 más en proceso, nacionales e internacionales.
Ha publicado 17 libros y 90 artículos en revistas especializadas: Space and Culture, IJ-Disaster Risk Reduction (Elsevier), Society for College and University Planning; PEB-Exchange (OECD); Urban IZZIV, La Cuestión Universitaria (UNESCO); CIAN-UC3M; AULA (Universidad de Salamanca); o International Association of Universities  (UNESCO).
Ha pronunciado durante 30 años conferencias en numerosos Centros internacionales: Stanford University, UCLA, Columbia, Virginia, Pittsburgh, UIC-Chicago, NYU, Real Colegio-Harvard, NYCCT, New Jersey Institute of Technology, Queen Sofia Institute (EE.UU.), McGill (Montreal), Instituto Cervantes (Lisboa y Utrecht), ITESM, Zacatecas (México), CULS (Chequia); Sapienza, Napoles, Cagliari (Italia), Oporto, Lisboa (Portugal), TU-Delft (Holanda), Belgrade, Niš (Serbia), Ministry of Education (Bhutan), Athens (Grecia), Latvia (Letonia), Aalto University (Finlandia), AAB (Kosovo), UCAM (Colombia), o el American Institute of Architects.
Autor del concepto de "Campus Didáctico", ha planificado numerosos proyectos nacionales e internacionales: Campus Estepona (1993); "Cartagena-Ciudad del Saber" (2000); "Proyecto Universitario-olímpico-Madrid 2012" (2001); Campus Sostenible (Iberdrola, 2007, Merit Award, EE.UU.); diseño para las Universidades de Alcalá (2008), La Laguna (2008), A Coruña (2009), UAM (2009), Girona (2012) y Málaga (2012). El proyecto del Campus de Villamayor (Universidad de Salamanca, 2005), mereció el "Honor Award" (1° Premio Internacional de Arquitectura Educativa) del International Forum for Innovative Schools (EE.UU.). En 2014, diseñó el Campus de la Universidad Nacional de Educación (Ecuador). Actualmente, planifica el nuevo Campus de la Universidad Agostinho Neto (Angola). En 2012, recibió el Premio "Education Leadership Award-World Education", por su contribución a la Educación internacional. En 2020, recibió "Innovative Research Award in Architecture of Education" (International Society for Scientific Network).