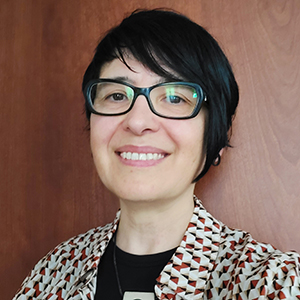 Ferrer Roca, Chantal
CCA / FIS
Chantal Ferrer Roca
Profesora y directora del Departamento de Física Aplicada en Universidad de Valencia e investigadora del grupo de semiconductores y condiciones extremas del Instituto de Ciencia de Materiales (ICMUV) de la Universidad de Valencia, dedicado a materiales bajo altas presiones y temperaturas de interés geofísico o síntesis de nuevos compuestos. Ha trabajado también en el Istituto Nazionale di Física Nucleare (INFN) y en el Centro Nazionale della Ricerca (CNR) en Padua (Italia).
Desde hace más de veinte años desarrolla una intensa actividad de divulgación centrada en la comprensión de fundamentos de la ciencia y el método científico, incidiendo en la relación entre aspectos teóricos y experimentales y las relaciones universidad-secundaria.  Iniciadora y responsable de la Colección de Demostraciones para el Aula de la UV, proyecto pionero con más de 170 demos disponibles para todo el profesorado y que recupera su uso en las aulas universitarias. Coordinadora  desde 2005 de la Feria-Concurso Experimenta de Física y Tecnología, que cuenta con proyectos competitivos de la FECYT y en la que más de 4000 visitantes pueden ver en el Museo de la Ciencia unos 80 proyectos explicados por 350 estudiantes de secundaria (50% mujeres). Coordinadora del Aula Experimenta, laboratorio en la facultad de física al que acuden estudiantes de secundaria (unos 700 por año). Ambas iniciativas surgen del Grupo de Trabajo de Física Arquímedes, formado por profesorado mixto (universidad - secundaria) y coordinado por Chantal Ferrer y que obtuvieron el premio "Física en la Sociedad" del concurso "Ciencia en Acción" (Bilbao 2013).
Especialista de Física de las pruebas EBAU y organizadora de las Olimpiadas de Física de Valencia, ha realizado numerosas charlas divulgativas, organizado cursos y talleres, como los campus de verano de la FECYT, incidiendo en la observación de fenómenos cotidianos y la comprensión de la física en relación con la tecnología.  Ha participado en los proyectos europeos CONCISE de ciencia ciudadana y es miembro de la Junta de la División de Enseñanza y Divulgación de la Física de la RSEF. Premio de Enseñanza y Divulgación (Universidad) de la Real Sociedad Española de Física (RSEF)- Fundación BBVA (2018) y premio europeo de divulgación "Physics on Stage" (2003).
Traducción al inglés:
Professor and Director of the Department of Applied Physics and researcher in the group of semiconductors and extreme conditions of the Institute of Materials Science of the University of Valencia, focused on materials under high pressures and temperatures of geophysical interest or synthesis of new compounds. She has also worked at the Istituto Nazionale di Physical Nucleare (INFN) and at the Centro Nazionale della Researcher (CNR) in Padua (Italy).
For more than twenty years, she has been intensively involved in outreach and public engaging and university-secondary education initiatives, focused on the understanding of fundamental aspects of science and the scientific method, and the linking of practical/experimental  and theoretical aspects. Founder and responsible for the Collection of Experimental Demonstrations in the University of Valencia, a pioneering project with more than 170 demos that recovers its use and is available to all faculty members for their lectures. Since 2005, she has been coordinating the Physics and Technology Fair and competition "Experimenta", held at the Science Museum of Valencia and supported by different FECYT competitive projects: around 4000 visitors can see 80 different projects exhibited and explained by aprox. 350 high school students (50% women).  Coordinator, also, of the Physics Lab "Experimenta", where high school students (700 per year) carry out laboratory experiments at the Physics School of Valencia. Both initiatives stem from the Physics Working Group "Arquimedes" a university–secondary education group coordinated by Chantal Ferrer that was awarded the "Physics in Society" prize in the "Science on Stage" contest (Bilbao, Spain 2013).
Physics specialist of the EBAU examinations and organizer of the Valencia Physics Olympics, she has given talks and organized courses and experimental workshops, such as the FECYT summer campuses, emphasizing the observation of everyday phenomena and experiences that help to understand physics and its relationship with technology. She is a member of the CONCISE European citizen science projects and of the Board of the Physics Teaching and Outreach Division of the RSEF.  She has received the Teaching and Dissemination Award (University) of the Royal Spanish Physics Society (RSEF)- BBVA Foundation (2018) and the European Dissemination Award "Physics on Stage" (2003).