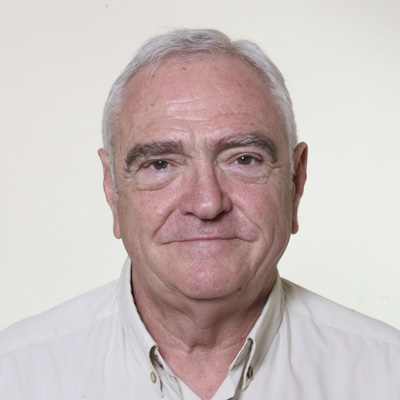 Yus, Miguel
CCA / QUIM
Miguel Yus Astiz
Nació en Zaragoza (España) en 1947, y recibió sus grados de BSc (1969), MSc (1971) y PhD (1973) en la Universidad de Zaragoza. Después de su estancia postdoctoral de dos años en el Max Planck Institut für Kohlenforschung de Mülheim a.d. Ruhr (Alemania) volvió a España a la Universidad de Oviedo (España), donde fue profesor titular en 1977, siendo promovido a Catedrático en 1987 en la misma institución. En 1988 se trasladó a la Cátedra de Química Orgánica en la Universidad de Alicante (España), donde ha sido director/fundador del Departamento de Química Orgánica y director/fundador del Instituto de Síntesis Orgánica.
El Profesor Yus ha sido profesor visitante en diferentes instituciones y universidades, como  el ETH-Zentrum, Oxford, Harvard, Uppsala, Marsella, Tucson, Okayama, Paris, Estrasburgo, Bolonia, Sassari, Tokio and Kioto. Es coautor de más de 600 publicaciones (y cinco patentes) y ha supervisado más de 60 tesis doctorales (ya presentadas), e impartido más de 200 conferencias, la mayor parte de ellas en el extranjero. En octubre de 2917 su índice h es 66 con más de 22.000 citaciones.
Entre otros ha recibido el Spanish-French Prize (1999), dos veces el Japan Society for the Promotion of Science Prize (Okayama 2000, Kyoto 2007), la Stiefvater Memorial Lectureship Award (Lincoln 2001), la Nagase Science and Technology Foundation fellowship (Kyoto 2003), la Cellchem Lectureship (Sheffield 2005), la Singenta Lectureship (Basel 2007), el Fundeun-Iberdrola Prize (Alicante 2007),  la Serratosa Lectureship (Barcelona 2010), la Conferencia Lourenço-Madinaveitia (Lisboa 2012), la Medalla Felix Serratosa de la RSEQ (Madrid 2012), y la Cooch Behar Professorship Lecture (Kolkata 2015), habiendo sido nombrado Active Academician de la European Academy of Sciences and Arts (Salzburg 2012) y Academic member del Athens Institute for Education & Research (Athens 2016). Dr. Yus ha pertenecido al Advisory Board de unas 30 revistas internationales, entre otras, Tetrahedron, Tetrahedron Letters, European Journal of Organic Chemistry, Chemistry Letters, The Chemical Record, Current Organic Chemistry, Current Chemical Biology, Jordan Journal of Chemistry, Applied Sciences, Annals of Chemistry, Journal of Organic Chemistry Research, and Trends in Organic Chemistry, siendo también Editor-in-Chief de Letters in Organic Chemistry, Chemical Engineering, Modern Organic Chemistry Research, y Open Chemistry, así como Regional Editor of The World Journal of Chemistry.  Es miembro de la Spanish Royal Society of Chemistry (1979), la Federation of European Chemical Societies (1980), la Royal Society of Chemistry (1985; Fellow 1992), la American Chemical Society (1986), la Neue Schweizerishe Chemiche Gesellschaft (1987), la Gesselschaft Deutscher Chemiker (1988), la New York Academy of Sciences (1994), la Chemical Society of Japan (1993), la International Society of Heterocyclic Chemistry (1995), la American Society for the Advancement of Science (1996), y la American Society of Pharmacognosy (1996). Su interés se centra en la preparación de compuestos organometálicos funcionalizados altamente reactivos y su uso en química orgánica sintética, la activación de diferentes metales catalizada por un areno, la preparación de nuevos catalizadores metálicos, incluyendo nanopartículas metálicas en reacciones homogéneas y heterogéneas, y catálisis asimétrica. Yus fundó la nueva MEDALCHEMY S.L. para la comercialización de productos de química fina.