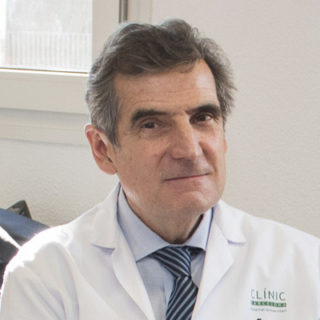 Josep M. Campistol
General Director of the Hospital Clinic of Barcelona
He is currently the General Director of the Hospital Clinic of Barcelona, Spain, and former Medical Director of the same hospital as well as Director of the Clinical Institute of Nephrology and Urology (ICNU). He is also Professor of Medicine at the Nephrology Department of the University of Barcelona.
He received his medical degree from the University of Barcelona in 1983, and completed his residency in internal medicine and, subsequently, his fellowship in renal medicine at the Hospital Clinic of the same institution. Following his training as a fellow in renal medicine at the University of Barcelona, Prof. Campistol continued his clinical work in renal transplantation within the Renal Transplant Unit at the Hospital Clinic. During this period, he also developed research interests into the pathogenesis of dialysis-related amyloidosis, and undertook a visiting Fulbright Scholarship at Boston University School of Medicine in Boston, MA, USA (1991–1992). His doctoral thesis (1990) was based on the 'Pathogenesis of dialysis-amyloidosis and the role of lymphocytes on beta-2-microglobulin synthesis and dialysis membranes'.
Prof. Campistol has published more than 700 experimental and clinical papers in international peer-reviewed journals. He is a member of many international transplant societies, on the editorial board of a number of major international transplant journals and a principal investigator in numerous clinical studies. His current research interests include the use of new immunosuppressive regimens in renal transplantation, mechanisms of allograft fibrosis and renal regenerative medicine.