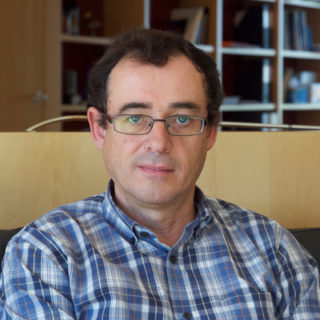 Jose M. Mas-Hesse
Born in Madrid on January 21st, 1961.
Degree in Physics from the Complutense University of Madrid, in 1984.
PhD in Astrophysics at the Complutense University 1990.
Presently Director of the Center for Astrobiology (CSIC-INTA) in Madrid, since June 2015.
Fields of work:
Extragalactic Astrophysics: Formation and evolution of massive stars throughout the history of the Universe.
Stellar Astrophysics: properties of massive stars in binary systems.
Development of Space astronomical instrumentation:
MINISAT-Legri: gamma ray telescope
INTEGRAL OMC: optical telescope
BepiColombo-MIXS: X-ray telescopes
PLATO: optical telescope
Athena X-IFU: X-ray telescope
R&D Management experience:
Manager of the Spanish National Space Programme (2002-2006).
Scientific advisor of the Spanish delegation at the European Space Agency Science Programme Committee (SPC).
Advisor of the Spanish delegation at the European Southern Observatory (ESO).
Spanish coordinator of the ESO Science Outreach Network (ESON).
Coordinator of the Instrumentation Working Group within the Spanish Network of Astronomical Facilities (RIA-MINECO)
Coordinator of the networks AstroMadrid and SpaceTec, funded by the Comunidad de Madrid local government.
Training of researchers:
8 PhDs and 1 Master thesis supervised since 1998.
Master programme teacher at UCM on "High Energy Astrophysics".
Publications
90 contributions in international refereed journals
More than 115 additional publications in conference proceedings, technical reports, news…
Research grants
Participation in 20 projects at European, national or local level.
Principal Investigator in 14 of these projects.